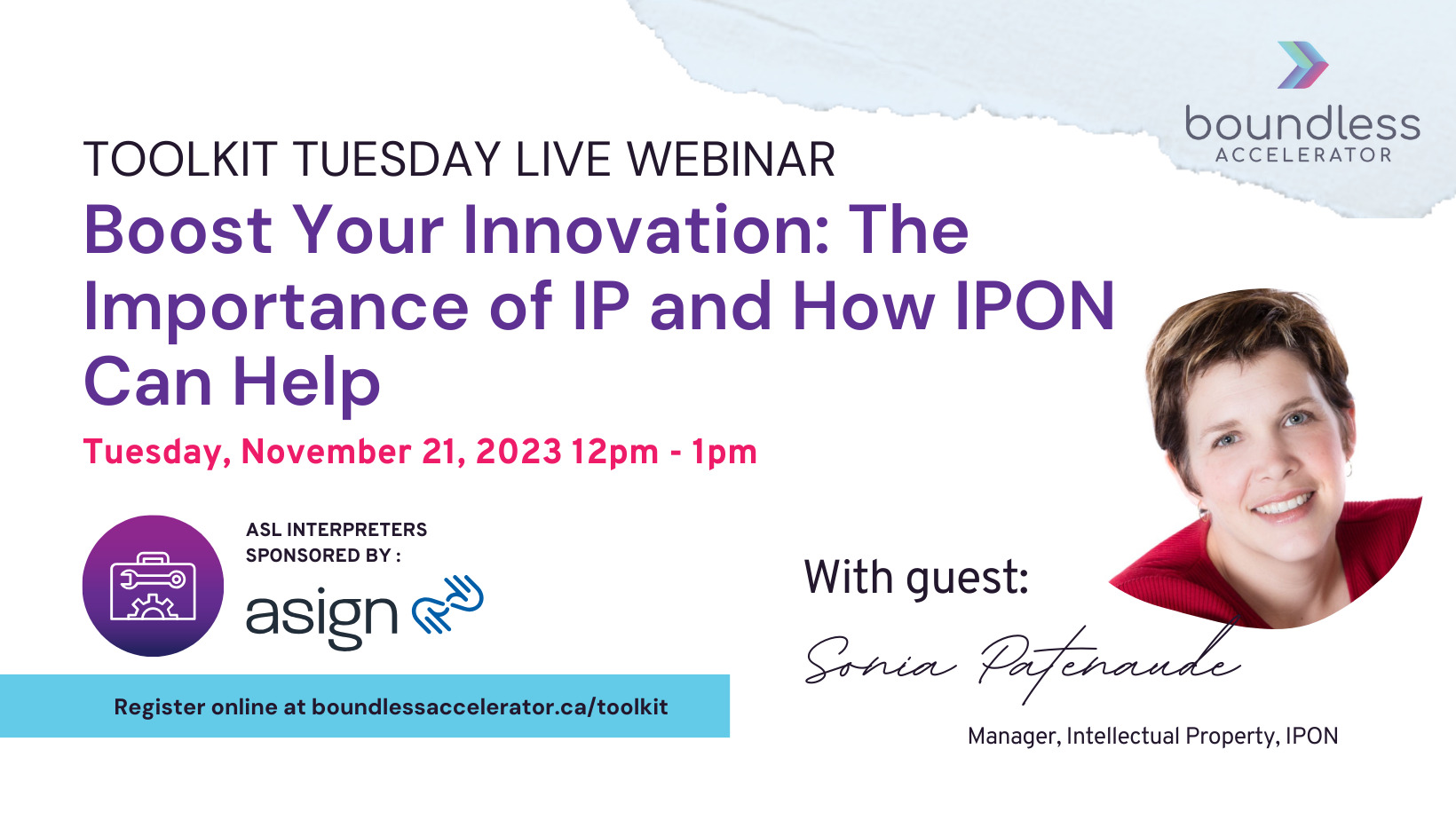 With Guest: Sonia Patenande, Manager, Intellectual Property, IPON
Intellectual Property (IP) is an intangible asset that is critical for any business owner or innovator wanting to scale and compete in today's global market. Through the offering of valuable IP services such as foundational IP education and 1-on-1 mentorship, Intellectual Property Ontario (IPON) helps support entrepreneurs in every step of their IP journeys. 
On November 21, 2023, 12:00 PM – 1:00 PM ET, we invite you to join IPON's Manager of IP Sonia Patenaude to receive an overview of IPON and its services; learn about the importance of IP and its different forms; and receive helpful tips on filing and building an IP strategy. 
The presentation will be 45 minutes, followed by 15 minutes of Q&A. 
About the Speaker: 
Sonia Patenaude – Manager, Intellectual Property, Intellectual Property Ontario (IPON) 
Sonia Patenaude is a Manager of IP at Intellectual Property Ontario (IPON) and is a bilingual Canadian and US Patent Agent with hands-on experience in procuring, developing, protecting, and licensing IP. Most recently at the Department of National Defence, Sonia managed the IP licensing sub-program focused on promoting continued industry advancement and improving the program's performance. Sonia also spent 11+ years at the National Research Council of Canada as an IP Advisor and Strategic Contract Advisor and was a Patent Agent at HEXO corp. Sonia has her Bachelor of Science in Biochemistry and her Doctor of Philosophy in Biochemistry.